Uses for our Product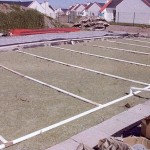 Water Treatment & Filtration
Numerous performance studies show that crushed recycled glass can provide capital and annual cost savings over traditional sand filter media for wastewater treatment. By filtering waste water through crushed glass instead of granulated soil there is evidence to suggest it can improve filtration. The crushed glass allows the water to pass through while trapping solid contaminants. It is a superior filtering agent for this purpose.
Sports Facilities
Sports facilities have seen the benefits of this free draining aggregate. Crushed glass can also be used in the construction and maintenance of sports pitches
and has potential application in greyhound tracks and artificial sports turf. Crushed glass is not only useful as a sand substitute, but also carries positive benefits of its own. The advantages on a golf course for example include;
a) It aids stability in bunkers;
b) It forms an abrasive dry layer on the land surface, thereby creating conditions that might deter earthworms;
c) Inter-particle friction is relatively high, making glass sand less susceptible to particle interpacking and compaction than rounded natural sands;
d) It improves drainage
Road Construction
Crushed glass has been used as a base in road construction. Mixing crushed glass with asphalt can produce a long wearing road surface. The crushed glass adds strength to the asphalt mix and reduces the cost of road construction.
Horse Gallops & Horse Rings
Our Recycled Crushed Glass has successfully been used in the creation of state of the art indoor and outdoor equine facilities. Given the amount of investment involved in this industry, the specification requirements are high, and significant time involving great cost and care is taken to construct an ideal horse racing gallop. The area must be well-drained, absorb impact well but not be so soft as to stress the horse's feet and legs.
For best results, well-drained "sharp" sand is the preferred aggregate to be used for horse gallop construction. When it is crushed and screened to a sand consistency, recycled glass is considered "sharp" sand, not because it could cut when handled, but because the angular surfaces, as seen under a microscope, provide more open spaces between the granules. This provides better drainage and prevents "clumping" when wet.
Sand Blasting
Crushed glass can be used for sand blasting. Traditionally, sandblasting is a method of removing rust, paint and other contaminants. Replacing the sand with finely crushed glass works just as well, and the glass is usually softer than sand particles, so there is less chance of damaging the items you're cleaning. Furthermore crushed glass is not harmful to the environment like traditional materials which can contain heavy metals.
Landscaping
Recycled Glass has proved itself invaluable it its application to Permanent Landscaping. It provides a form of mulch that never fades or needs replacing. Glass mulches are unique alternatives to traditional bark or gravel mulches and provide a natural deterrent to garden pests when used around your Garden. It has been placed along driveways, parking areas, walkways, garden paths and in fish ponds.
Concrete
Crushed Glass can be added to concrete as a replacement for sand and small gravel. Crushed glass is lighter than the sand and gravel, so the concrete weighs less per square meter, and is just as strong.
Pipe Bedding Material/Pipe Surround
As a backfill medium for sewer, gas and water pipe trenches, the crushed glass fills the voids around the pipes, supporting them and protecting them from damage. It compacts less densely than sand or muck, and gives equal or better protection to the pipes.